Choose natural light
People who work and spend time in government buildings, from libraries to fire stations, can reap immediate and long-term benefits when those buildings are equipped with daylighting systems. Multiple scientific studies have concluded that sufficient natural light exposure is critical to our physical health, mood, memory, productivity, and overall wellness. Fortunately, bringing daylight into interior spaces without adequate natural light has never been easier or more cost effective.
All government buildings can benefit from daylighting, including:
      Libraries
      Government offices
      Police/fire stations
      Vehicle maintenance facilities
      Public utilities buildings
      Other municipal buildings
Benefits of Natural Daylighting
Daylighting has numerous benefits. With regard to government buildings, some of the most notable benefits include:
Productivity increases by 18%
Memory and overall mental function improve by up to 25%
Better visibility
Improved health
Lower stress levels
Improved mood and behavior
Why Governments Love Natural Daylighting
Whether the benefits of daylighting are being realized by a police officer or firefighter with lower stress levels and improved mental function, a student using the library to study for an exam, or an office worker in a municipal building, the ripple effects of these benefits are extraordinary.
In addition to the health and wellness benefits experienced by individuals working in and frequenting government buildings, there are extensive environmental and financial benefits. Buildings using daylighting see a drop in electricity costs, and daylighting also significantly reduces the building's carbon footprint.
In addition to the health and wellness benefits, daylighting technologies can help government buildings comply with LEED certification or B3 green building standards that are often required in municipal structures. Our team at Daylight Specialists is familiar and well versed in green building standards and can work closely with you to meet your city's requirements. We can help you meet your own design goals to brighten your space, while simultaneously achieving environmental objectives.
Daylight Specialists Gallery
Explore some of our recent daylight projects:
Contact Daylight Specialists
Government buildings with daylighting provide healthier environments for workers and visitors, increase worker productivity, reduce electricity costs, and protect the environment. To get an estimate and learn how daylighting can improve your space, contact Daylight Specialists today.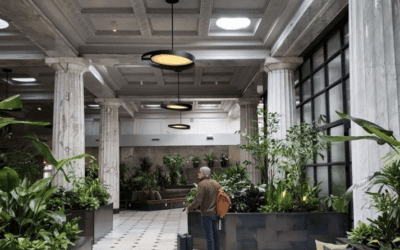 Humans have an innate connection to nature that is often lost in the modern urban environment. However, many architecture, landscape, and design professionals have turned to biophilic design to return us to our roots. By incorporating natural elements such as...