Business + Property Owners
Why Business + property Owners Choose Daylight
Many Americans don't get sufficient daylight. This is particularly true for those of us who live in northern climates. Whether we are at home, in the office, at school, or shopping, interior spaces rarely provide the natural light we need to keep our circadian systems – and our health – in check.
Ideally, we could all spend more time outside during daylight hours, but that's not always practical. The next best option is interior daylighting. Daylighting products bring brilliant natural light to interior spaces, improving the quality of experience in apartment buildings, office buildings, retail outlets, and more. Whether you own or manage property or a business, you can reap extraordinary benefits with the installation of a daylighting system.
How We Help Business + Property Owners
Benefits of building or retrofitting with daylighting include:
Reduced electricity costs
Higher real estate value
Lower rental vacancies
Slower depreciation
Improved corporate image
Increased ROI
Increased worker productivity
How Can Daylight transform your Space?
Daylight has the remarkable ability to renew interior spaces. Just take Minnesota's historic Hotel Emery for example. We partnered with McCaren Designs to bring daylight into a dark lobby, completely altering the visitor experience.  Guests are amazed by the indoor plants that are able to grow due to constant sunlight, and find lounging in the lobby a more satisfying experience. Watch the video or read the full case study below!  
Green Buildings are Better for Your Bottom Line
Buildings with green technologies such as daylighting are in high demand, with the high sales and rental prices and lower vacancies to match. While it's true the energy savings of daylighting systems are tangible, there are even greater benefits that are often overlooked.
Businesses often say that their most valuable asset is their people – their employees and their customers alike. So how does an investment in daylight translate to an investment in people?
Numerous studies have shown that workspaces with adequate natural light have more productive workers. Quality daylighting improves behavior, mental clarity, memory, and overall productivity.
Additionally, exposure to quality daylight naturally enhances our mood and directly impacts our circadian system, which affects everything from hormone production to sleep. When our circadian rhythms are off, we are at risk of insomnia, obesity, stress, and even cardiovascular disease.
Now imagine happier and healthier employees as a result of more daylight in their lives. Think about the ripple effect increased employee productivity would have on the rest of your business. Your sales might increase, less mistakes might be made, your turnover may be lower, and your customers might have more pleasant experiences interacting with healthier and more productive workers, encouraging them to return.
The fact is, investing in your people returns investment higher than immediate energy savings or lower operation costs. By supporting and improving the health and mood of workers, residents, and customers, you are investing in your bottom line in a way that will make the most impact.
Daylight Specialists Gallery
Explore some of our recent daylight projects:
Contact Daylight Specialists
Are you ready to invest in your bottom light with Daylight Specialists​? Daylighting technologies save money, reduce our carbon footprint, and create happier, healthier environments for everyone. We provide consultations, design, installation, and product sales services. Contact Daylight Specialists today to learn how you can improve your space with brilliant, natural daylight.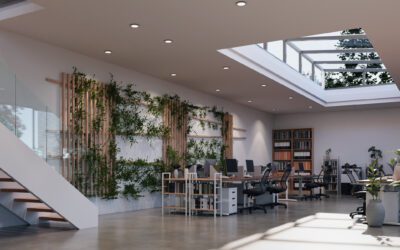 Commercial skylights offer a wide range of benefits for businesses and commercial spaces. They provide abundant natural light, creating a brighter and more inviting environment for employees, customers, and visitors. Skylights in particular can enhance the aesthetics...