Daylighting for Parks + Recreation
Daylighting and long-life LEDs in public spaces such as transportation facilities, parks, recreational buildings, and trail systems can provide a solution for lighting these facilities in an environmentally conscious, cost-effective manner.
At Daylight Specialists, we can demonstrate how these and other daylighting solutions lower energy costs, reduce your building's carbon footprint, and create a happier, healthier, safer environment for the public.
Why Choose Daylighting
With interior daylight systems, we can harness the sun's natural, beautiful, healthful light while reducing electricity and maintenance costs and improving public experience. The effective use of daylighting and smart wireless LED lighting can:
Add brightness and openness to interior spaces
Support the physical and emotional health of visitors and employees
Enhance visitor experiences
Reduce reliance on electricity
Reduce environmental impact
Improve visibility
Reduces energy and maintenance costs
Supports green building objectives
Reinforce the natural environment in and around park and recreation buildings
Benefits of Daylighting
Parks, recreation buildings and facilities, and trail systems are operated and maintained by cities to provide healthy, fun, community-based activities for residents and visitors. At Daylight Specialists, we can deliver natural daylight into park buildings, consistent with the natural elements of the park. In addition, LED lights can be integrated with daylight and motion sensors, preventing wasted energy during times of non-occupancy. These smart wireless lighting systems allow cities to control and maintain lighting of parks and recreation buildings with minimal labor and cost.
Transportation facilities such as bus stations, light rails, and airports can benefit from daylighting solutions by reduced energy costs while providing a secure and aesthetically pleasing environment for passengers. Effective lighting creates a sense of openness and safety for everyone passing through.
Additionally, daylighting creates a safer environment by improving visibility. This is particularly helpful for older visitors. According to the Illuminating Engineering Society, people aged 55 and older require lighting that is 2.3 times stronger than their 25-year-old counterparts.
Daylight Specialists Gallery
Explore some of our recent daylight projects:
Contact Daylight Specialists
Our experts offer daylighting solutions to help you reduce costs, achieve environmental sustainability goals, and create safer, more beautiful spaces for the community. To learn more about how daylighting and long-life LEDs can enhance public spaces, contact us!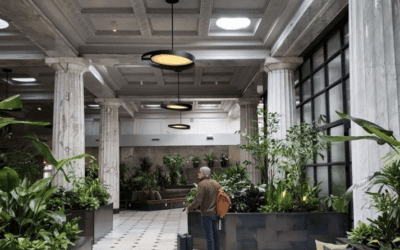 Humans have an innate connection to nature that is often lost in the modern urban environment. However, many architecture, landscape, and design professionals have turned to biophilic design to return us to our roots. By incorporating natural elements such as...