Solatube®
Daylight Specialists is an authorized distributor and installer of Solatubes®, new-tech skylights that use mirrors to capture and direct natural sunlight to interior spaces. Solatubes can be installed in brand new buildings, as well as during the redesign/retrofit of existing spaces.
Get a Free Consultation
Solatube® Commercial Daylighting Solutions
Solatubes first hit the market in the 1980s when an Australian inventor created a tubular daylighting device (TDD) as an alternative to the traditional skylight. This device was the first Solatube product brought to market and served as the catalyst for multiple new daylighting products and technologies.
Solatube products are uniquely different from skylights for several reasons. For professionals specializing in retrofits, most Solatube products do not require complex structural changes to a building to deliver abundant and brilliant light into dark interior spaces.
Solatubes use a rooftop lighting system that redirects sunlight through reflective cylinders on the outside of the building into a diffuser on an inside ceiling. Over the years of development and perfection, accessory features have been added to the Solatube line including integrated lighting as well as dimming and diffuser features, and extension tubes that can circumvent obstacles inside a building without sacrificing quality light.
Since the first patented TDD by Solatube in 1986, the company has become a market leader in daylighting technologies, continuing to innovate and create new products and models.
Features of modern Solatube products boast patented technology that prevents heat-carrying infrared rays from entering the lighting systems, innovative lenses and reflectors that increase light capture while minimizing glare or over lighting.
Design
You already know the extraordinary benefits of bringing daylight into buildings. But when it comes to building design and construction, you've got your hands full. You shouldn't be expected to become a daylighting expert, too. That's where we come in.
At Daylight Specialists, our experts help you with every aspect of daylighting design. By using proprietary software, we are able to create an accurate model that aligns beautifully with your goals, specifications, and vision. After our team helps you select the best products and solutions for your unique needs, we move into the collaborative design process, working with you to plan layout, performance calculations, building and energy code support, and budgeting assistance.
Through the use of our proprietary software, the team at Daylight Specialists will:
Recommend the best products and solutions for optimal daylighting, based on your building size, orientation, and location as well as project objectives.
Provide detailed information relating to products and installation for your specific project, enabling you to confidently present an accurate and compelling proposal to clients.
Allow you to evaluate a range of scenarios including configurations, seasons, and geographic locations, ensuring you have the optimum solution.
At Daylight Specialists, our experts will help you through every aspect of adding daylight to your building project, and streamline the process of selecting the best products for your needs.
Midwest SolaTube® Distributors + Installers
Daylight Specialists, an authorized Solatube distributor and installer, can help you determine which product line and individual components are best for your unique project. All Solatube Daylighting System components come with a 10-year warranty, while electrical components are covered for 5 years. Additionally, all products are manufactured and assembled in the U.S.A. For more information about Solatube products and how Daylight Specialists uses them to bring daylight to interior spaces, contact us today!
Product Line
Solatube's commercial product lines include:
SolaMaster® Series – The flexible solution for open and closed ceilings
SkyVault® Series and accessories – The supersized solution for high, open ceilings
Brighten Up® Series – The brightest solution for smaller commercial spaces
With additional features:
Spectralight® 2000 and Infinity tubing
Patented Raybender® technology
Daylight dimmers and integrated high-efficiency LED lights
OptiView ® diffuser for customizing light to specific spaces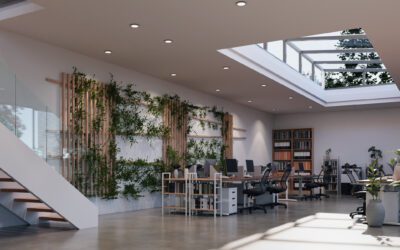 Commercial skylights offer a wide range of benefits for businesses and commercial spaces. They provide abundant natural light, creating a brighter and more inviting environment for employees, customers, and visitors. Skylights in particular can enhance the aesthetics...