How it works
As the premier daylighting company in the Midwest, Daylight Specialists provides full-service daylight solutions, from design through installation and service after the sale. From earliest stages of your project through our last day on the job site, our team will support your goals by listening to your needs and objectives, and offering ideas, product solutions feedback, cost insights, and more.
Our Services
Consultation
Design
Installation & Project Management
Consultation
Schedule a consultation with us today and let us show you how we can help incorporate daylight into your designs. We step into your project and gain a full understanding of your vision and goals in order to offer you the best solutions and ensure the outcome exceeds your expectations. We make the process of selecting products and solutions simple, so that you can spend your valuable time on other important project deliverables.
 At Daylight Specialists, we work with architects and other design professionals, general contractors, facility owners and managers, and commercial developers. We install daylight systems in schools, retail outlets, office buildings, dental and healthcare clinics, government facilities, manufacturing and warehousing facilities, parks and recreation buildings, and transportation facilities. Whatever your daylighting needs, we have the solution, and we will work closely with you until you are completely satisfied with what we have presented.
 We understand the unique needs of our clients because we serve a diverse market, across multiple industries and geographic locations, and for every budget, and scope. We also understand that no two clients are alike. As such, our specialists listen to each client's unique goals and objectives to ensure that our process aligns with your vision.
Design
You already know the extraordinary benefits of bringing daylight into buildings. But when it comes to building design and construction, you've got your hands full. You shouldn't be expected to become a daylighting expert, too. That's where we come in.
At Daylight Specialists, our experts help you with every aspect of daylighting design. By using proprietary software, we are able to create an accurate model that aligns beautifully with your goals, specifications, and vision. After our team helps you select the best products and solutions for your unique needs, we move into the collaborative design process, working with you to plan layout, performance calculations, building and energy code support, and budgeting assistance.
Through the use of our proprietary software, the team at Daylight Specialists will:
Recommend the best products and solutions for optimal daylighting, based on your building size, orientation, and location as well as project objectives.
Provide detailed information relating to products and installation for your specific project, enabling you to confidently present an accurate and compelling proposal to clients.
Allow you to evaluate a range of scenarios including configurations, seasons, and geographic locations, ensuring you have the optimum solution.
At Daylight Specialists, our experts will help you through every aspect of adding daylight to your building project, and streamline the process of selecting the best products for your needs.
Installation + Project Management
Once we've completed the design phase, we're ready to move to the next stage of the process – installation. Our certified experts are here to assist you with all aspects of the installation process, which reaches far beyond just the installation itself.
Alongside impeccable installation, project management is where we shine. For the Daylight Specialists team, we aren't selling products, we are selling a unique daylighting functionality that we find very exciting. It's not enough to select the best products and install them. We take great pride in working with each client as the process unfolds, ensuring that the evolution and outcome of the installation aligns beautifully and accurately with your goals and vision.
The finished product should be nothing less than a work of art, and seamless project management is the best way to ensure that the outcome is as exquisite as your vision.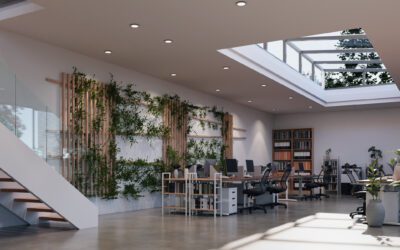 Commercial skylights offer a wide range of benefits for businesses and commercial spaces. They provide abundant natural light, creating a brighter and more inviting environment for employees, customers, and visitors. Skylights in particular can enhance the aesthetics...